This week-end was the European Championship in Spain. Team Magic driver Thomas Vigneron, current modified French Champion participated this event and made incredible results during all the race, with his "old" Team Magic E4RS III Plus, as the E4RS4 will arrive around mid July.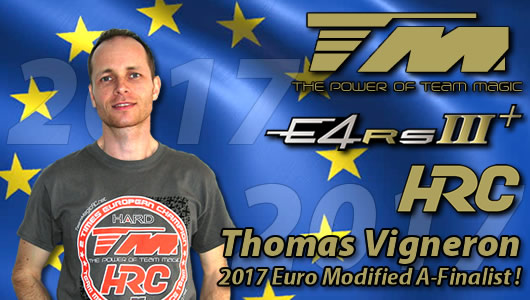 Thomas Vigneron made very nice qualification runs, with a 5th overall place in Q1 and 7th in Q2. So, he qualified his Team Magic E4RS III Plus in A-main in modified category, at the 9th overall place.
Of course, I crossed all the fingers I can with the hope to obtain a 6th or 7th place, which was for sure something possible, but the simple fact to be in finale, for a small team like Team Magic – moreover with the "old" E4RS III Plus – is something incredible and fantastic ! (Look at the B-main to understand)
GREAT JOB Thomas !!
Lionel Troyon – Team Manager for Team Magic Europe
Original report from Thomas Vigneron (version française en fin de page):
Hola! The last weekend took place the European championship Touring in Spain in Almussafes (close Valencia). The French team is composed of 5 Modified drivers, 8 in stock and 1 in F1.
Thursday is dedicated to the registration, the free practices and the controlled practices. The Tires imposed for every driver are the LRP G36 which are strong with correct performances. The imposed tire additive is the LRP asphalt. This chosen additive does not procure a lot of grip to the tires on this asphalt; but it is necessary to make with, especially as everybody is on the equal footing. The free practices allow me to discover the track and especially the very low conditions of grip. The balance of my Team Magic is good but springs and hydraulics are not adapted.
After some favourable adjustment, the controlled practices start in purpose to determinate a re-classification to dispatch the drivers of same level in qualification groups. Driving in used tires, I abandon the idea to perform on 2 laps and I decide to make these runs like qualification runs to the constancy of me and my car over 5 minutes. The two runs are OK, the car is quite easy and steer round, with a bit of understeering. Contrary to all expectations I am classified 13th and first French of the reseeding. I am rather confident for the next day and hope for an improvement of 2 tenth by lap with new tires, so 3 seconds over 5 minutes.
On Fridays there is a practice before the 6 qualifications, it allows me to modify the setup of my Team Magic and to determine the setup for the qualis, I realize the 8th time on 2 laps, still with my tires of Thursday. The car is on the limit between comfort and performance, ideal to begin the qualifications. We all have 5 sets of fresh tires for 6 qualis.
My Q1 is done without mistake with a small slowing down in the last 3 laps to insure my place. Ronald Volker who observed the run congratulates me. I say to myself that it was probably not so bad and after the run of the series of Ronald and Bruno Coelho I am still 5th at 25 hundredth of the 3rd, Loïc Jasmin. I am over the moon! I hope to redo just at least once a run like that.
After Q3 I am always 4th in the general ranking behind Ronald, Bruno and Marc Rheinard, a kid's dream (I know some are going to laugh at me but I assume, lol). Q4, I still do not touch the setup and I come down to the 5th place, Q5 I start with used tires and contrary to all expectations I have some grip and traction in the point to make wheeling and to roll over in the back turn of the straight line where a bump destabilize the cars.
Before the start of Q6, the A-finale is not still safe for me; we are 6 drivers with 2 points of gap only. I decide to start in new tires (I wanted to keep an extra train for the finales) and to modify slightly my setup by removing the anti-dive in my front arms. The car is of course easier, not faster but I am more consistent on 5 minutes and I realize my Q6. The most constant and thus the fastest of my qualis, even if 9 drivers are faster at this moment.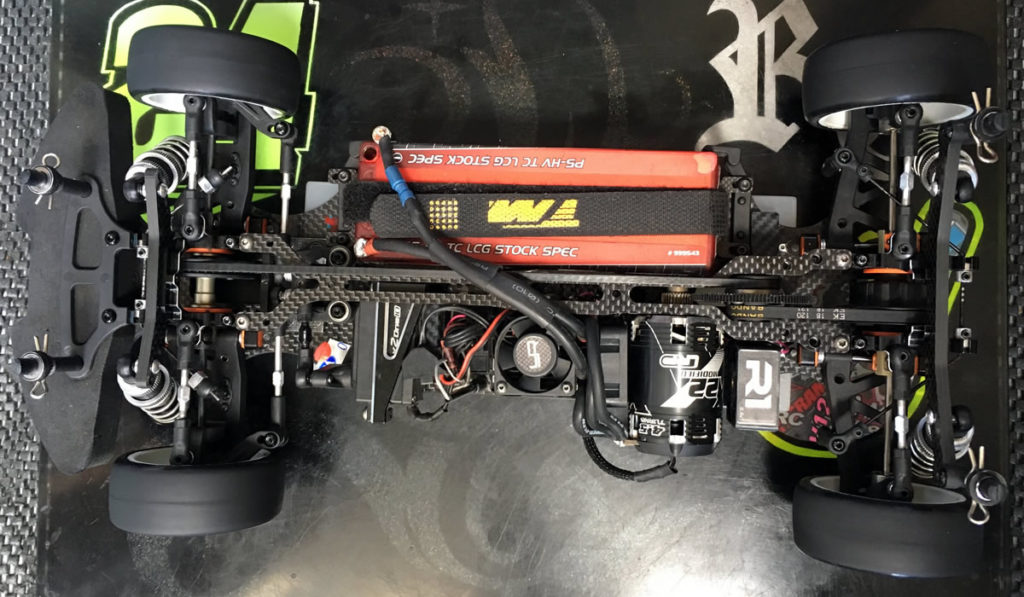 I am a little worried during marshalling of the last series and in the wait of the overall ranking. I am finally relieved when I discover that I would participate the Modified A-Main the next day by starting from the 9th place. I am also very satisfied for Loïc who joins finale A after Q6 and also disappointed for Cyril who stays in B-Main.
On Saturday, day of the finales, it is raining! Fortunately the rain stops fast to leave place to the sun and to a practice with a dry track, but with not much grip. I take advantage of this practice to try a harder differential and more camber gain on front. As result: I would have had to make it earlier, I regret it.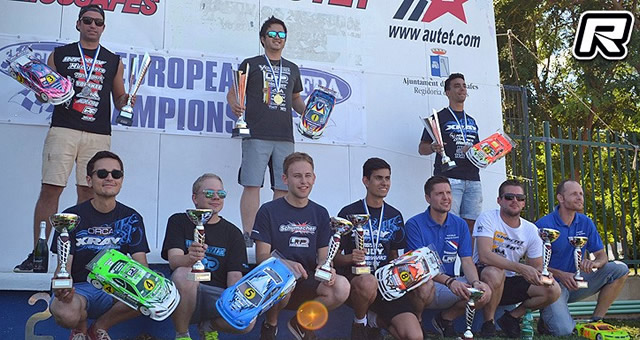 Finale 1, no anxiety nor of stress, I cannot believe it. During the call of the pilots in front of me, I can't believe to be called with them! At 2 minutes of the end, I am 6th with a small advance on the following ones. Unfortunately, at 4 minutes 30 everything stops, the pinion decided to leave my motor.
The finales 2 and 3 are alike, I end twice 8th and thus to the 10th place overall, with nevertheless a good rhythm in the laps in all finales.
I would keep in memory the Modified podium with the finalists, the fireworks in broad daylight, the very pleasant track layout. And also the speed radar on display with correct top speeds despite of the low grip: a small 117kmh for me and a 121kmh for Alexander Hagberg. The victory in stock of our Alexandre Duchet, the fight on the track between Julien Jost and Jan Ratheisky; and a travel back to Paris rather long but in Class C.
European Championship – Overall Result:
A – 1. Ronald Volker
A – 2. Marc Rheinard
A – 3. Bruno Coelho
A – 4. Alexander Hagberg
A – 5. Viljami Kutvonen
A – 6. Elliott Harper
A – 7. David Perez Perez
A – 8. Loïc Jasmin
A – 9. Viktor Wilck
A – 10. Thomas Vigneron – Team Magic E4RS III Plus
B – 11. Christopher Krapp
B – 12. Frederik Südhoff
B – 13. Cyril N`diaye
B – 14. Michal Orlowski
B – 15. Nicola Marrone
B – 16. Manuel Wagner
B – 17. Alessio Menicucci
B – 18. Alexandre Laurent
B – 19. Harley Eldridge
B – 20. Marc Fischer
C – 21. Javi Ferrando
C – 22. Olivier Bultynck
C – 23. Anna Wysgol
C – 24. Miko Teponoja
C – 25. Aaron Rose
C – 26. David Ehrbar
C – 27. Damian Giddins
C – 28. Jesus Casanova Aparisi
C – 29. Finn Olav Aasen
C – 30. Tommy Jensen Indrefl
C – 31. Henning Stavnhaugen
(Reportage de Thomas en Français ci-dessous, cliquez sur "Continue reading".)
Reportage original de Thomas Vigneron en Français:
Hola! Le week-end dernier s'est déroulé le championnat d'Europe Touring en Espagne à Almussafes (proche Valence). L'équipe de France se compose de 5 pilotes en Modifié, 8 en stock et 1 en F1.
Le Jeudi est réservé à l'enregistrement, les essais contrôlés et les essais chronométrés.
Les pneus imposés pour tout le monde sont les LRP G36 qui sont robustes avec des performances correctes. Le traitement obligatoire est le LRP asphalte. Ce traitement choisi ne procure pas beaucoup de grip aux pneus sur ce bitume mais il faut faire avec, d'autant plus que tout le monde est sur le même pied d'égalité. Les essais contrôlés me permettent de découvrir la piste et surtout les très faibles conditions de grip. L'équilibre de ma Team Magic est bon mais les ressorts et l'hydraulique ne sont pas adaptés.
Après quelques ajustements favorables, les essais chronométrés commencent, afin de réaliser un reclassement sur 2 tours pour les qualifs. Roulant en pneus usés, j'abandonne l'idée de performer sur 2 tours et je décide d'effectuer ces essais comme des qualifs pour tester ma constance et celle de ma voiture sur 5 minutes. Les 2 runs sont ok, la voiture est plutôt facile et tourne rond avec encore un peu de sous virage. Contre toute attente je me classe 13ème et premier Français du reseeding. Je suis plutôt confiant pour le lendemain et espère une amélioration de 2 dixièmes par tour en pneus neufs soit 3 secondes sur 5 minutes.
Le vendredi il y a un essai avant les 6 qualifs, il me permet de modifier le setup de ma Team Magic et de déterminer le setup pour les qualifs, je réalise le 8ème temps sur 2 tours toujours avec mes pneus de jeudi. La voiture est à la limite entre confort et performance, idéal pour commencer les qualifs. Nous avons droit à 5 trains de pneus neufs pour 6 qualifs.
Ma Q1 est réalisée sans fautes avec un petit ralentissement dans les 3 derniers tours pour assurer. Ronald Volker qui observe me félicite. Je me dis que cela ne doit pas être si mal et après le passage de la série de Ronald et Bruno Coelho je suis 5ème à 25 centièmes du 3ème Loïc Jasmin. Je suis aux anges ! J'espère juste refaire au moins une fois une qualif comme ça.
Après la Q3 je suis toujours 4ème au classement général derrière Ronald, Bruno et Marc Rheinard, un rêve de gosse (j'en connais qui vont se moquer de moi mais j'assume, lol). Q4 je ne touche toujours pas au setup et je descends à la 5ème place, la Q5 je pars en pneus usés et contre toutes attentes j'ai du grip et de la traction au point même de partir en wheeling et me retourner dans le retour de la ligne droite ou une bosse déstabilise les voitures.
Avant le départ de la Q6, la finale A n'est toujours pas sûre, nous sommes 6 pilotes avec 2 points d'écart seulement, je décide de repartir en pneus neufs (je voulais en garder un train supplémentaire pour les finales) et de modifier légèrement mon setup en enlevant l'anti-plongée dans mes triangles avant. La voiture est bien sûr plus facile, pas plus rapide mais je suis plus constant sur 5 minutes et je réalise ma Q6. La plus constante et donc la plus rapide des qualifs, même si 9 pilotes sont plus rapides à ce moment-là.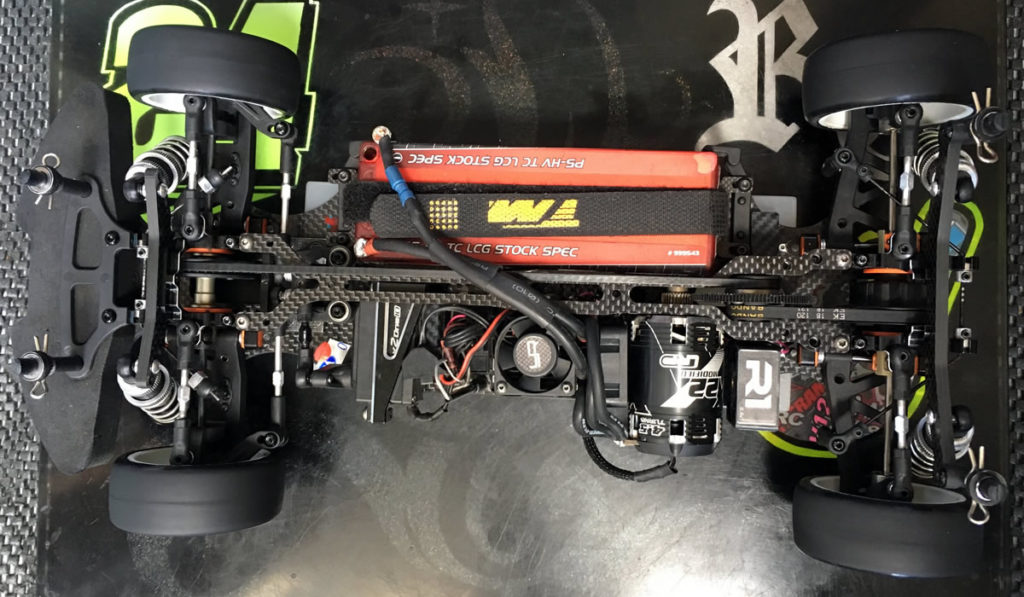 Je suis un peu angoissé pendant le ramassage de la dernière série et après l'attente du classement général. Je suis enfin soulagé quand je découvre que je participerais à la finale A en Modifié le lendemain en partant à la 9ème place. Je suis aussi très content pour Loïc qui retrouve la finale A après la Q6 et également déçu pour Cyril qui reste en B.
Le samedi, jour des finales, il pleut ! Heureusement la pluie cesse vite pour laisser place au soleil et à un practice avec une piste sèche mais avec peu de grip. J'en profite pour essayer un différentiel plus dur et plus de prise de carrossage à l'enfoncement à l'avant. Résultat: j'aurais dû le faire plus tôt, je le regrette.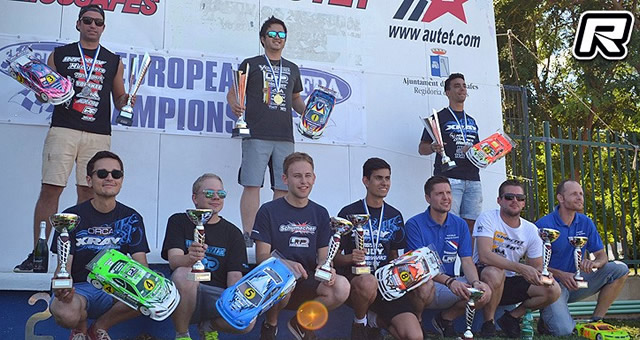 Finale 1, pas d'anxiété ni de stress, je n'en reviens pas. Lors de l'appel des pilotes avant moi je n'en reviens toujours pas d'être appelé avec eux ! A 2 minutes je suis 6ème avec une petite avance sur les suivants. Malheureusement à 4 minutes 30 tout s'arrête, le pignon a décidé de quitter mon moteur.
Les finales 2 et 3 se ressemblent, je termine deux fois 8ème et donc au général 10ème, avec malgré tout un bon rythme au tour dans toutes les finales.
Je garderais en souvenir le podium des finalistes Modifié, le feu d'artifice en plein jour, le tracé de la piste très plaisant. Et aussi le radar de vitesse sur panneau avec les vitesses de pointe correctes malgré le faible grip : un petit 117km/h pour moi et 121km/h pour Alexander Hagberg. La victoire en stock de notre Alexandre Duchet, la bagarre sur la piste entre Julien Jost et Jan Ratheisky et un retour à Paris plutôt long mais en Classe C.